I went to a yoga class today called antigravity which involved a hammock and I'm never going to that again. I think my teacher was also the pole dancing teacher, based on her footwear. Pole dancing would be preferable to hanging upside down by a rope. really if I wanted to join the circus for real, i might have. I always wanted to ride an elephant. But that would probably terrify me too. They are tall. I don't know why, everyone else in that class said it was their first class, yet they were all hanging upside down, unterrified.

I got a new coffemaker. It is red, and it turns off automatically. So even though halfway to work, I panic, and think OH NO I left it on, its OK.

Did I forget something?
Thought I'd caved in but life won't let me. I called comcast cable for the $19.99/mo for 12 months internet. I was going to do it I really was. Dude comes out, and the cable isn't live, so he goes down to the "service area" and there is no #16, there are three unmarked cable "things" - so he turns them all on, and we go back up, and no cable, it is dead. So he says, they can't do it, but my landlord would have to hire a contractor to rewire the whole cable line all the way up to my apt (3rd floor). So I'm like i dunno if I really want to deal. When I had dsl they had to do that one time for the phone line, when it went out. And then the line went out again a few months later, and that is when I disconnected bc I didn't want to deal with it. So now its the same problem. For a place so old that I have an icebox in my wall, why would no one before me have ever had cable??
It didn't occur to me to take a picture of my step brother or his wife... I've seen him my whole life. Or his ritzy upper west side place which seems, I don't know if I was rich, I'd do better. Also, when dudes have decorating input, um nevermind.
It first occured to me to take a picture when I was wasting time before meeting up with Mark L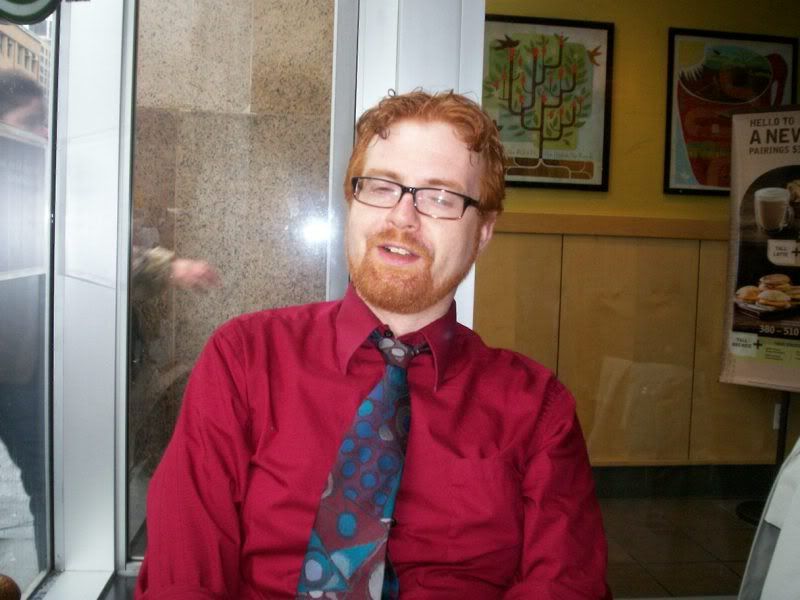 Like meeting an icon!!! (Looks drunk, but this is before the bar, he was sick)
Incidentally my reading was on Mayday, which is also Immigrant Workers day! Si se puede!
I went to one demonstration in Madison square (I think that's where I was)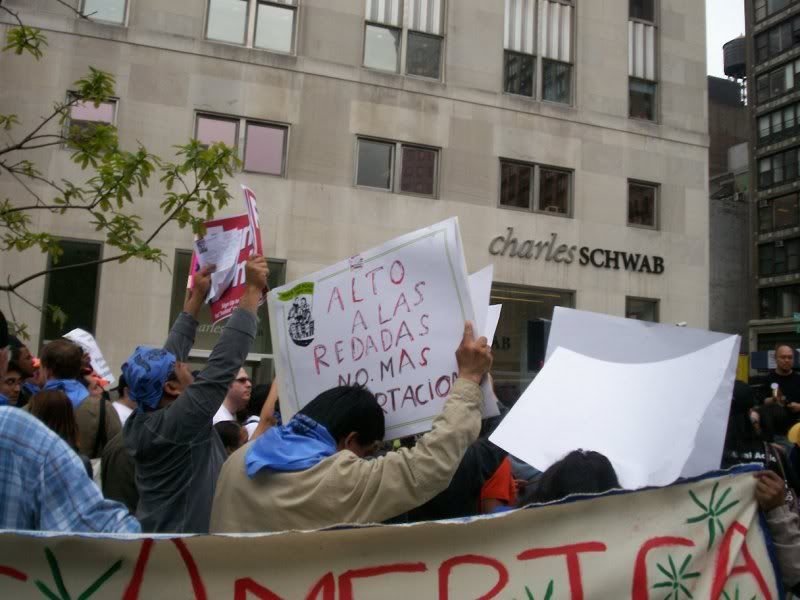 And another one in Union square (they have one too)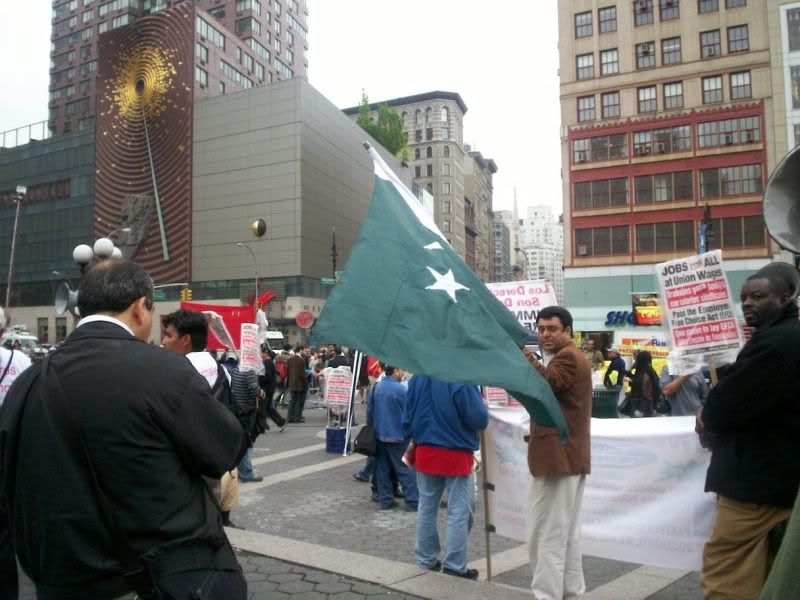 It's so cute how they call their subway "Subway"
Then I met up with mark in the rain, it was raining like MAD. Thank god he was there or I'd have been nervous as hell at this point, especially since my stepbrother, his wife, Arielle, and Jon ALL flaked out of going to my reading. The FEAR of poetry will kill you more than poetry itself!
This is the very cute stage at Pete's Candy Store: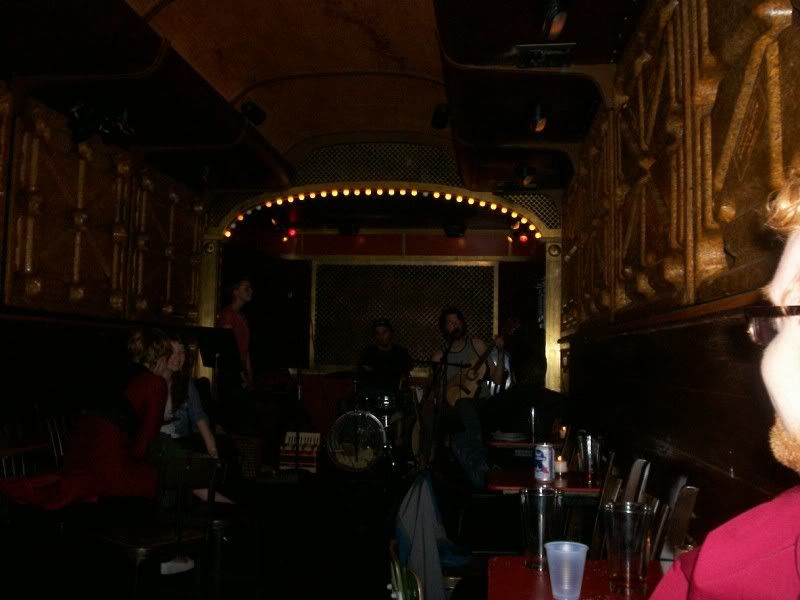 That is the band, we opened for, or maybe they closed for us, I don't know. They were from Massachusetts, I remember that.
I read 3 poems from Vorticells, which I've NEVER publicly done, and probably won't again. I read about 5 minutes from The Unicorns, and 5 minutes from the prose poems, and then finished with like a minute of the joke poems. I think people laughed. But I'm not sure.
This is Matthew Klane. He read with his poems on a music stand, not in front of him, but to the left of him, and would have to glance over to the left (without moving his head) to read his poems, it looked very eccentric.
I don't have a picture of
Jared White
but this is his blogger pic:
I think he is really into film by his poetry and so forth. I want to read more of his work. It seems like it'd be better to sit with than to hear, or good to hear, because then I want to read it and absorb better.
I wish I had a picture of Sommer too.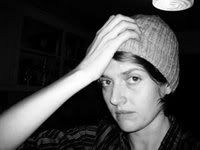 Ah, you can find anything on the web! She was taller than I expected. Gave funny introductions kindof "really" from her 3 year old nephew.
Arielle wouldn't let me take a picure of her but this is one of her cats: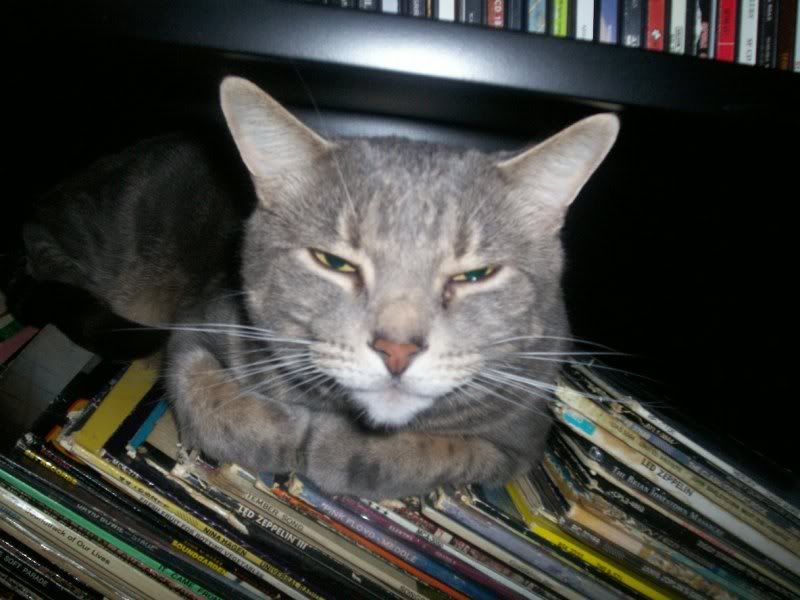 Arielle is heterosexual which you can see by her wallart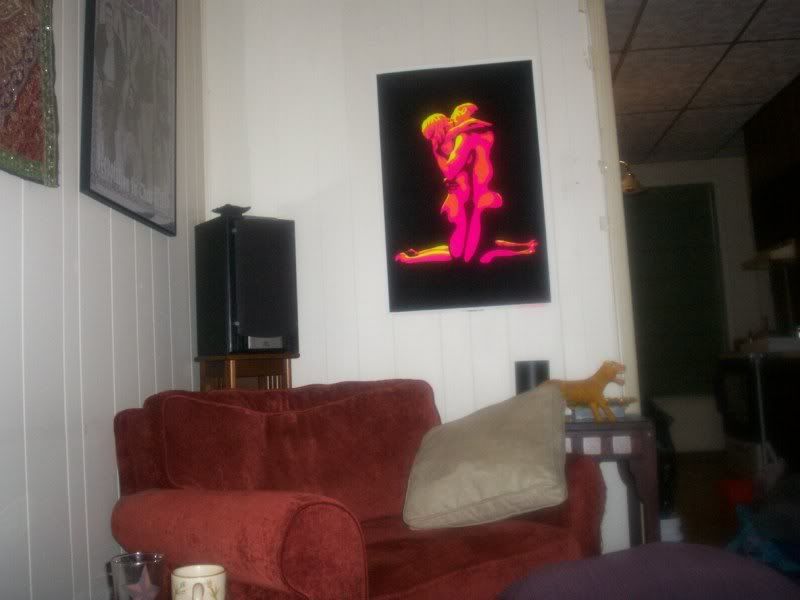 I also visited with Andy Warhol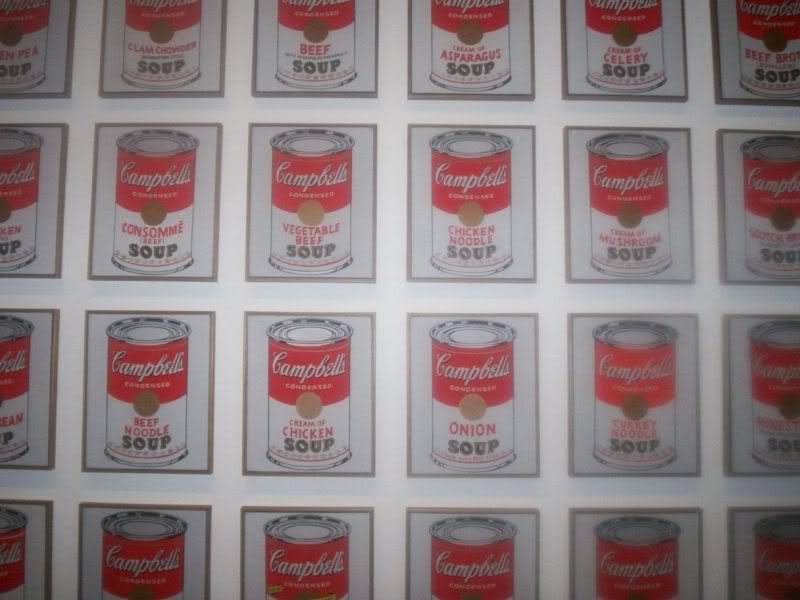 I'd like some asparagus.
And then the last night, I finally met up with my friend Jon from high school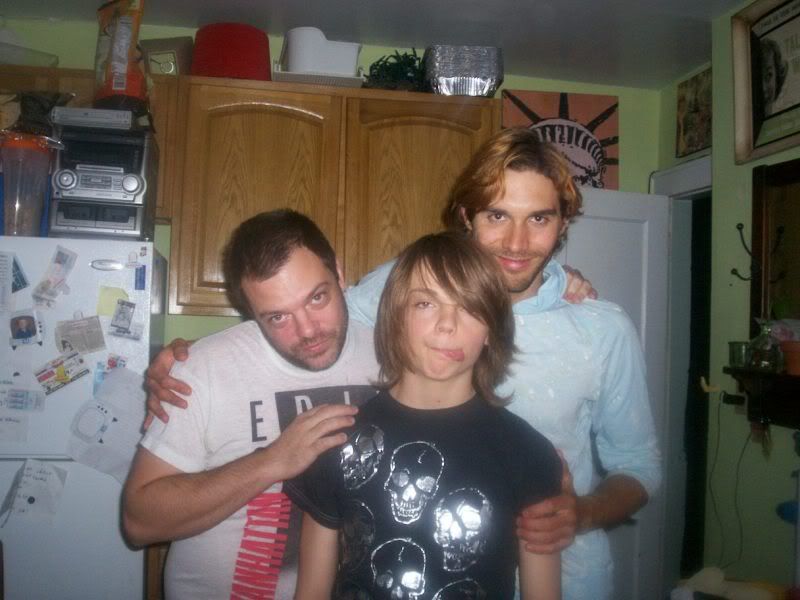 In high school he was so wild, he came to school with Crayola Red hair and I think got expelled because it caused a nuisance or something, everyone would stop in the halls staring. Now he is a suburban dad in Queens!
He like movies: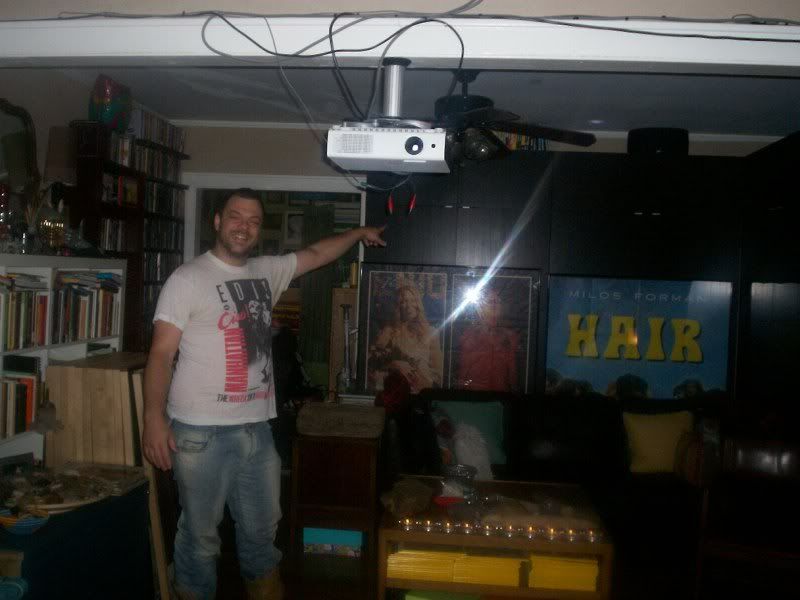 and has a LOT of records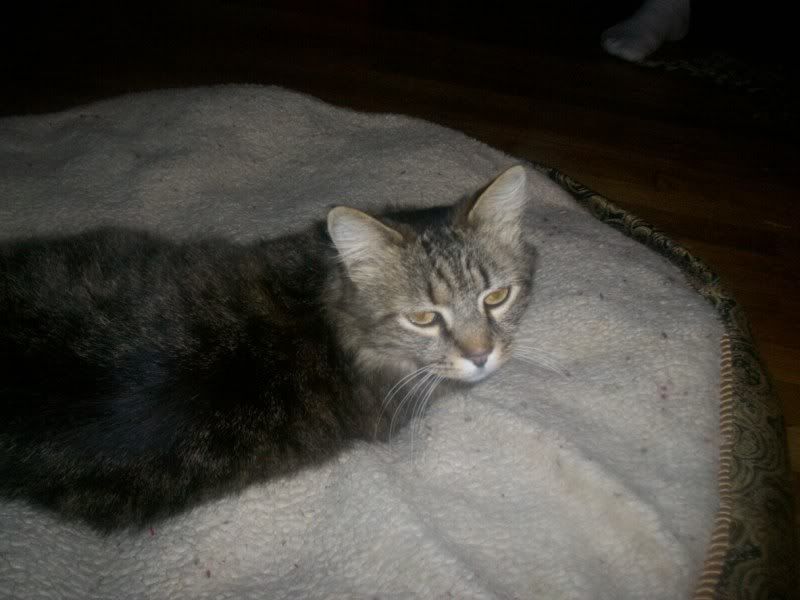 and a cat also.
And that is all Whew!
I'm not a very good picture taker, they are blurry and haphazard. Just randomly it occurs to me to take a picture...


Fun, except um kind of blurry. I had two newcastles, and a Brooklyn Lager. I don't remember really what I said, did I say anything witty? Probably not. But sold books! Left with an extra $20. Thanks ya'll! Who gave me money?

Anyway I am so exhausted now, I stayed the first two nights with my stepbrother and his wife, who both seemed uninterested in my reading and didn't come. There was also an excuse that Williamsburg is so hip, they are not allowed to go there. It just seemed like a neighborhood to me, the people in fact seemed more "real," as I said, than upper west side but maybe that's just me. Or there is something I didn't like get...

I've been overanalyzing san franciscans vs new yorkers to the point where my brain sort of had a meltdown, so I'm just stopping with New Yorkers are nicer. But we are crazier, which I have to admit, I missed. And lo, do I feel kind of proud? My first night back I saw I guy walk out of his pants and kick them into the street. And I was like, ahhh, i missed you!

I think I just realized I missed seeing Maggie last night. I wish there was one poetry reading events blog to go to for these things, random people note some of them, but it seems they miss a lot... and you have to read a lot of blog to have all the information.

My "vacation" though was totally exhausting, and I've been falling asleep all week at work. Luckily my boss is off all week, so it barely matters. The whole time in NY I was running around. In fact I had a subway nightmare Tuesday night. I decided I didn't want to pay $60 or whatever to get from my stepbrothers to my friend's house in Brooklyn, so I took the subway with my big luggage. Of course its the weekend and everything is fucked up on the weekend apparently. My stepbrother told me to take the B line down to the F which goes to Brooklyn. But there is no B line on the weekend, so I had to take the A line which doesn't hit the F line. SO thank god I had my subway Flash maps book, and remembered taking the L to Williamsburg the night before and that it looked like it hit the F so I did that and that worked but then the F - on the weekend - goes out of service at Hoyt Schermerhorn and you have to transfer to the G line which *acts as if* its the F line... Crazy. Also each transfer I had to walk up flights up stairs with my giant purple luggage. Should have worn the same thing all week, I told you. My whole left thigh is al bruised up but that's ok, after doing that I knew I could do it again and took the subway to the airport also, and felt *very* independent!

I don't know what else I can blather on about. Oh! The poets I read with super cool. Matthew Klane is one of the house press guys (how many of them are there? 1200?) He wrote this amazing chap after or on the dali lama (all of them) I wish I'd thought of that as a project, it is so cool. Really amazing writing too. And jared white was also cool. He didn't have anything to trade, but he was in Narwhal, which I want, but Cannibal is apparantly on an ordering hiatus. Anyway I remember having seen his name and he read Wed here at Books and Bookshlelves. So he gave me his MOMA card and I got into the museum for free! So cool. So I had to go to the B &BS reading to give it back! Which was a really cool reading in itself. Met and heard his girlfriend Farrah read. Very small reading for some reason. Maybe 7 of us? So everyone at the reading introduced themselves to everybody else. I talked to this couple who just moved here from Manhattan and entertained them, regaled them with stories of how to appear local in mission vs the TL. I finally figured out how to appear local in tenderloin and it is not easy. They think I should write a book.

My mom is coming for memorial day and we are going to Big Sur. I cannot wait to have a real vacation. Where I just lay around a lot reading and writing. That's a vacation. I dreamt my mom died and was crying and crying in my dream, and I woke up and read that robin blaser died. Hmmm.

I have to go to the bathroom. Pictures to come.
I had loads of fun at My Reading in NY! Which is the most important thing, that the poetess was entertained, yes? Was really laid back, it felt like hanging out at Books and Bookshelves with micahel slosek and robin demers or something, just totally unpretentious and "real". Probably due to Sommer's cool laid back ness. I had an idea NY would be really pretentious, but probably, who is more pretentious than californians? we can be awful. I think NYers never say the word "coterie" can everyone stop saying it? It freaks me out!


Also, my headphones are doing like supernatural things, it is mystical sounding. Like for some reason, I can only hear the background singers. The actual singer I sort of hear, but like far far away. Also the drums are very pronounced, and whatever other instruments are supposed to be that are the front sound, I guess guitars?, I can't hear them. Oddly, and I'd never have guessed, Sia has all male background singers, isn't that odd, because I would assume it wouldn't match, but I think in the real way of hearing the song, they don't stand out at all. Um, because they are in the background? So deep.

So I said enough of this shit, and I went to the Apple store and paid $30, those things last. The original ones lasted almost a year I think. This $3 crap I bought on ebay, uh-uh.

Something really odd and mystical happened in the apple store also, but I can't quite remember, I think it is this weather. It is so windy the wind like ripped the tears right out of my eyes. Also, I bought a GIANT sky blue Marc Jacobs bag at Nordstroms. For the plane. In the clearance section, and it is Nordstroms so I can return it. I feel kind of ludicrous walking around with a giant sky blue bag. this is also all because of my period I am sure.

And I got to use the word cedilla in a sentence today. Which I had to look up first, but.

I asked my dad about bringing fluids on a plane, and he said to buy a bunch of little bottles and only put 4 oz in each? Hmmm. Is that crazy?

Oh, and that hatha class yesterday ripped me up. I made a list of all my muscle groups that are affected:

triceps
shoulder
obliques
abs
mid back
ankles

My hamstrings are fine. I have amazing hamstrings.
Went to Peet's and said can I have a raspberry tea and they said no, but we have rose hip tea. And I'm like do you think I'm on a color diet? But I had the rose hips and it is very good. Now I am at cup-a-joe's and they have raspberry tea but it has a vanilla infusion. It is good too. This is all because of my period.


Was so stressed out yesterday with all the proofreading and all the being mad at the yoga studio (I think what they've done is almost or possibly actually illegal and am asking for a refund, but that's a nother post!) all day massive anxiety. But I did so much proofreading yesterday, 144 pages in all! I have 20 left. I went to three different cafes yesterday, one by my house, then I met up with Eve and we went to Mission for a little art gallery walking, (where me and her baby Paulo practiced spitting, he is much better at it than me). Then they left for the very important nap. He won't sleep in public unfortunately. So I went to Atlas Cafe, my old haunt, memories! Then I went home and walked up Polk street and proofread some more in Quetzal. Then I went home, drank two glasses of wine, took a zanax, proofread some more, and fell asleep by 10.

We were looking at these art studios they have a door that locks and are only $300, and Eve says could you live here, and I'm like totally just put a little pallet there, a desk there, and thats it. Ha! Then I was sitting at home this more actually thinking about what i'd have to give up, all my books, my futon, most of my clothes, my TV, my stereo (but if I have wireless connection I can watch anything and listen to anything online). And with my crunch membership I could totally shower at the gym everyday! No one would know I'm halfway homeless. What about peeing though? Oh the art studio building has bathrooms. It could totally work. i'd have to pretend to be an artist! I could be a book artist!
Had a weirdly great class at the gym, I thought it was near my house because its on Polk but its way up at the top of the city, Russian Hill, but friendly yuppie dogs everywhere neighborhood, and there is a USED bookstore right nearby!! So that will be fun to go into this neighborhood occasionally. I took a class called hatha, which I thought was totally easy compared to Ashtanga, but it was about the same really, no sun salutations as a warm up though, but I was sweating by the middle of it anyway. A lot more lunges though and my feet were burning. The gym is in an old movie theater and they kept the movie screen and were playing an old 80s movie ,I think Roadhouse? Who doesn't want to work out to Roadhouse? The only thing is outside the yoga studio everyone is out there on their treadmills, with the bass pumping loud music and in corpse pose I could feel the floor bumping with it. But thats ok I live next to a bar, so I'm used to it.
May 1 – Jared White, Carrie Hunter & Matthew Klane
Jared White was born in Boston and has lived in Brooklyn for about eight years, near two big bridges. His poems have appeared in previous issues of Barrow Street, Cannibal, Coconut, Harp & Altar, and Word For/Word, among other journals. A chapbook of poems entitled Yellowcake will appear in the upcoming chapbook collection, Narwhal, from Cannibal Books. He maintains an occasional blog, No No Yes No Yes, at jaredswhite.blogspot.com.

Carrie Hunter's chapbook Vorticells was published by Cy Gist Press, and an e-/chapbook Kine(sta)sis was published by Dusie. The Unicorns will be coming out as a chapbook in the Dusie Chapbook Kollectiv year 3, and she has another chapbook forthcoming through House Press' Arrow as Aarow series. She has been published online in Turntable & Blue Light, Dusie, Parcel, and Sous Rature, and in print in Small Town XII, Try! magazine, and Eleven Eleven. She received her MFA/MA in the now defunct Poetics program at New College of California, edits ypolita press, and lives in San Francisco.
Matthew Klane is co-editor/founder of Flim Forum Press, publisher of the anthologies Oh One Arrow (2007) and A Sing Economy (2008). His book is B_____ Meditations from Stockport Flats Press (2008). His latest chapbooks include Friend Delighting the Eloquent, Sorrow Songs, and The- Associated Press. Also see: The Meister-Reich Experiments, a sprawling hypertext, online at www.housepress.org. He currently lives and writes in Albany, NY.
House Press is pleased to announce the release of
string of small machines
, issue4.
The issue includes work by Melissa Severin, Carrie Hunter, Daniel Borzutzky, Andrew Hughes, Gustave Morin, Raul Zurita (translated by Anna Deeney), and Brenda Iijima. 200 original covers were printed by Angee Lennard at Spudnik Press. It's available for $5, via pay pal.
(Click the picture)


So I joined Crunch. Only $50 a month - half of what I was paying before the increase and there's all these wacky classes, turning tricks? Maybe I'll skip that one. Something with the word barre like ballerina-ish - and lots of yoga, I guess it won't be *spiritual* but yah, thats ok. I'll meditate later...

I have 162 pages to proofread this weekend at my other job...
The good thing about today was getting to say in my best gen X voice, OMG I love Christie Brinkley! The bad thing was I quit yoga, or at least my yoga studio as they are increasing prices exponentially, starting tomorrow. Even if you - like me - have just bought a 3 month membership, you have to add $193 to get to come to classes - bullshit!